Wednesday, August 27, 2008
Tuesday, August 26, 2008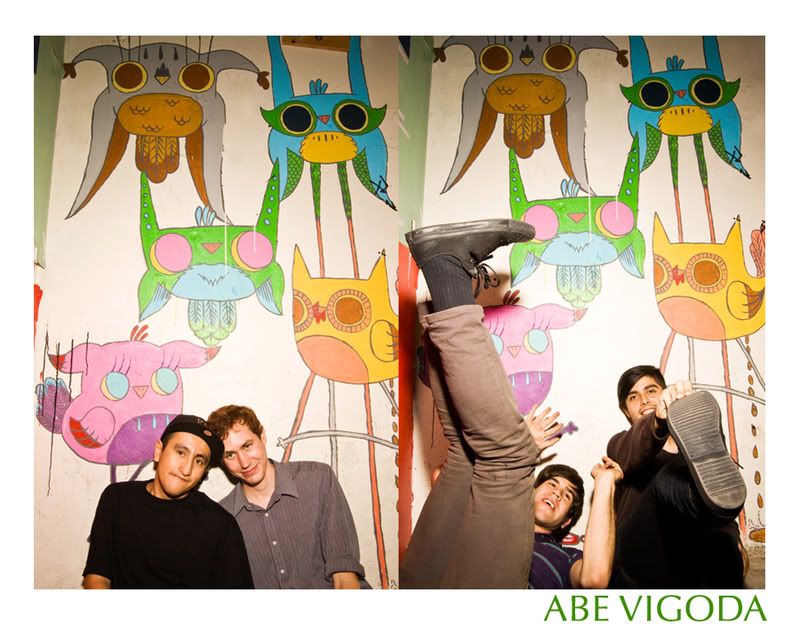 everything is totally awesome. this year is by far the coolest year i've ever had, and everything that happens keeps surprising me. SERIOUSLY SO COOL. since the last time i wrote:

+ i took trips to washington, d.c. to shoot the 3oh!3, and to los angeles to shoot gliss, abe vigoda (probably my favorite new band right now), rob zabrecky (possum dixon + awesome magician and actor), and my super talented and amazing friend allister dougherty! she is AMAZING, and makes gorgeous clothes and drawings, and is a pretty spectacular photographer.
+ i was living in colorado for the summer shooting bands and senior pictures (a first, which was REALLY, REALLY fun!).
+ i got married august 2 to joel davenport (warmghosts.com). technically, i am now a davenport. weird!
+ i turned 23 august 4!
+ i was shooting for the denver post's show review blog (denverpost.com/reverb) with bree, which was pretty cool. i'm not really one for live photos, but i got to shoot lil wayne, panic! at the disco, david banner, crystal castles, and a few others. it was a pretty sweet deal. being like a foot away from lil wayne? seriously? THE COOLEST.
+ i was asked to shoot my first cover for a real magazine a couple of months ago. unfortunately, i couldn't pull it off $$ and timing wise, but someday soon, it won't be an issue! VERY cool to have the opportunity though. seriously so cool.
+ venus zine did a story about my photography and bree working with me (thanks to josh bloom and jen ng!). it's got a bunch of my photos, a ridiculously too big photo of the two of us, and a nice story from bree (breedavies.com). on the page after the story about us is one of the new pictures of girl talk that i'd taken! awesome!
+ MY FIRST PHOTO IN ROLLING STONE! WOAHHHHHHH. i was looking at magazines and a little sad that they didn't use my ra ra riot picture, and then i turn the page, and bam! one of the photos that i'd taken of the 3oh!3. that is THE COOLEST THING TO EVER HAPPEN TO ME. and dude, of the 3oh!3 too -- go colorado. those dudes are so good and awesome.
+ i spent the week before my wedding preparing HARD for my first solo art show that never happened. that's alright though, because all through the month of September, it will be hanging at City O' City in Denver, Colorado (13th and Grant between Sherman!). I won't be around though, but Bree will be setting things up and holding down the fort. she's awesome, and i don't know what I'd do without her for this!
+ probably the next biggest thing happening in my life is that instead of moving back to new york, i've moved to olympia, washington! we found the CUTEST house and are living with our good friend mike (wokeupdown.com). he's good people, and it's the best living situation i've had in a while (so far -- it's only been a couple of days, but our place is gorgeous and feel GOOD!).
+ i also took a job at k records. i'm the new production manager, which is cool! it has been good, but somewhat stressful, because i don't know what the hell i'm doing, and i'm having to re-learn illustrator (i guess i didn't know much before though). things are getting easier, and falling into place, and being awesome! so far, i've made posters, been laying out artwork, and i had a great photo shoot with LAKE at helsing junction (helsingjunction.com). that was also pretty sweet -- three days of music and movies, and swimming in a river on a farm! GORGEOUS!

i guess those are the big things that have happened recently, but there are HUGE THINGS IN STORE! i'm excited to be in olympia again and be a part of some cool stuff. we'll be in seattle and portland a lot too, so if you want to hang out or take photos, let me know! i'll try to up date my website this week!

COOL STUFF! write me!!